Time to squeal in delight as metal implements are shoved up Uranus. All in the name of science, of course.
In Alien Probe 1, Smith the alien needs human orgasms to run his spaceship. He finds Penny and takes her aboard for an out of this world experience she'll never forget.
In Alien Probe 2, Smith's brother Brown gets in on the action. He finds Amber waiting in a field just begging to get juiced up. What she doesn't count on, is Brown is nothing like his brother and might just have to punish her for her eagerness.
Not that she'll mind … eventually. Both are full of lots of funny, sexy action to juice up your spaceship.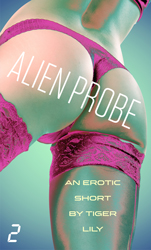 Cover modified for Barnes & Noble, and Apple (they thought this one too raunchy). See who is stocking it on the Lily Books page.