Episode 1 & 2 are out now. Eps 3-5 are coming soon (I'm 1/3 through ep 3 as of today (27 Nov)).
CLICK THE COVERS BELOW TO GO TO AMAZON.COM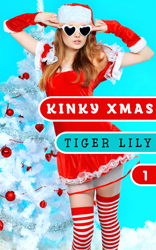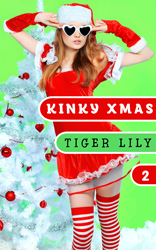 Synopsis:
Jasinda Dink had been delegated to the Christmas Cave at the department store again. It's going to be the same old boring gig. Snotty children, bored mothers. For three whole weeks.
Plus they've got a new Santa. Probably some boring old fart who'll try and pinch her bottom any chance he can. And, he's late. Asshole.
She finds him struggling to get dressed in the staff room. He's not old, instead he's young and kinda hot. He's also extremely foul mouthed.
Her best friend warns her to stay away, but there's something addictive about him, and she finds herself agreeing to join him in a wild sexual adventure that's sure to be her kinkiest Christmas ever.
Kinky Xmas is a serial. The story will take place over five episodes. The remaining eps will be published Nov/Dec 2014.