I've been busy with real life and haven't been able to devote as much time to writing as I usually do, but I figured it was about time to remedy that. I've put out two new short stories for your reading pleasure.
First is a fun halloween erotica story, Giving Pumpkinhead, and the second is a hot boss/secetary story, On The Boss's Desk.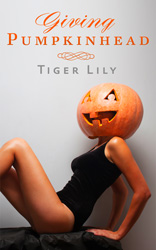 Something fun and something hot. Take your pick!
Both books are available in Kindle Unlimited (so you can borrow them for free) or you can purchase Giving Pumpkinhead for $0.99 or On The Boss's Desk for $2.99 from Amazon.
Enjoy and have a rocking October.
Tiger. (roar)