I'm not one of those people that hate Mondays. I like Mondays. If anything I hate the weekends because that means everyone is at home. But Monday's the house is quiet and I can concentrate again.
Last week I didn't write anything. I'd had a huge fight with my boyfriend and was feeling weepy and emotional. Probably not the best mood to be in if you are trying to write funny smut. So I took the week off. We are talking again this week so it looks like I have no more excuses to procrastinate. Time to get back into this story!
Anyway, my plan is to have it finished either this week or early next. So far it's one of the funniest stories I've ever written, so we'll see how it plays out in the market. I know that not many people like too much plot or jokes with their erotica, but it's what comes out of my head, so it's what I have to write. Oh well.
I'm a little concerned about the title of this one. The cover is uber okay, no retailer is going to have a problem with it. But the title? I don't know. Well, I guess it won't hurt for you to have a sneak peak cover reveal.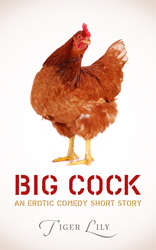 There. Funny right?
I think it's hilarious (and yes I realise I might be the only one who things so). So we'll see if the stores have a problem with it. And before you ask – yes there is sex in it. Quite a lot so far, although the story is kicking in now, so we'll see if that continues (of course it's going to, duh!).
Anyway, I'll keep chugging along with it, and get it out to you as soon as I can.
In the meantime, keep reading and smiling
Tiger 🙂