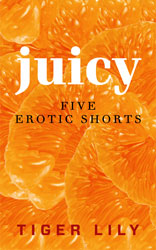 I was thinking this week about what I wanted to write next, and I had this urge to write some quick erotic stories. Thus Juicy emerged.
They are fun and (of course) hot. I mean, how could they not be with stories like Shane's Banana or Jenna's Cherry. LOL.
Here's the description I wrote for it:
Like your stories quick and dirty? Get your juices dripping with these five shorts from erotica author, Tiger Lily.

BARBARA'S MELONS
Annoyed that she was overlooked for the promotion, Barbara storms out of the office, only to find strange fruit vendor, Julio who insists she take a melon or two. Returning to the office, her boss calls her into the conference room for a meeting she'll never forget.

SHANE'S BANANA
It's a scorching hot day and Shane heads outside for some shade. His flirty neighbor visits with a bunch of banana's that she can swallow whole. After she soaks herself with the hose, things take a turn for the better.

JENNA'S CHERRY
Jenna makes a wish that she'll finally meet a nice man, blows out the candle and whoosh, the curtains burst into flame. Luckily, hunky firefighter, Reeve, saves the day insisting she stay the night at his house.

TOM'S KUMQUATS
When Tom is trapped in the bank foyer due to a black out, he's at a loss at what to do until they come to let him out. The only other person with him is attractive Kate who greedily nibbles on Tom's kumquats to help pass the time.

ELISE'S PEACH
If getting a C grade on her term paper wasn't bad enough, now her professor is insisting she discuss it in his office. There is one way she can change her grade, but it'll take passion she's not sure she has.
Anyway, it's up on Amazon and Smashwords with the other retailers coming soon. I hope you like it.
I really don't think Apple will have a problem with that cover either – *grin*.
Tiger 🙂
P.S. I know I said I was going to write the Kinky Xmas series next, but I've decided to hold off until it's closer to Christmas for the rest of the stories.