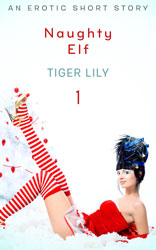 Ginger is, that's who.
Naughty Elf is about Ginger Mingus, one of Santa's elves. Up until now she's been a good elf, up for promotion and engaged to head of the wrapping department.
Everything looks good for her, until Jack Frost, mischevious sprite, comes knocking on her window, begging her to come out and play with him. When she finally agree's, he teaches her a few new tricks includng some super sexy 'special' kisses. Kisses that Ginger loves and wants to do more of.
Of course, that would mean becoming naughty. Very, very, naughty.
Naughty Elf is a serial. The story takes place over five stories, and each can be purchased either individually or as a complete box set.