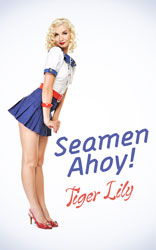 My latest story is for those readers who like plot and emotion with their sex.
Originally I'd planned on writing a fun little story with a good dollop of humor thrown in, but my muse had other ideas and so the emotion was ramped up and the funny dialled down and thus Seamen Ahoy emerged wet and dripping (or something like that).
So what's it about?
Set on a small pirate ship making a quick trip across the seven seas, Arabella hides out as a male deckhand, but her secret is revealed and the first mate blackmails her into giving him head. She's also smitten with the Captain who is the darkest, most brooding character I've written so far. I kind of already want to write more about him, but we'll see …
Anyway, it's 9,000 words (about 36 pages) with three sex scenes.
Enjoy!
Tiger xx